Solutions
Innovative Building Solutions is eco-friendly— our company provides green solutions to promote a green environment through responsible allocation of energy.

Access Controls
Access control systems can include cards, readers, controllers, intrusion detection devices, closed circuit television (CCTV), digital video recorders (DVR), and integrate with a variety of life safety, operational and business systems. Systems also range from small single door to large networked systems for multiple buildings, parking lots, etc. While each system will vary depending on an end user's requirements, the following are common components.

Access Control Software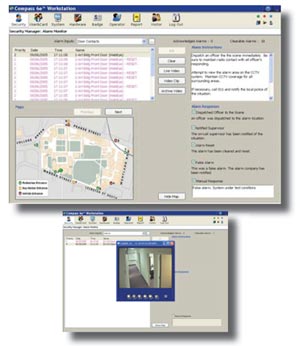 The access control software you choose determines whether you'll have an integrated system that works together smoothly and seamlessly or not. It determines how many options you'll have with regards to peripherals such as readers, credentials, cameras, printers, facility and business applications. The design of the software can also have an impact on its useful life. Your software should possess the capacity to control and integrate multiple disciplines of electronic security, operational and environmental systems including Access Control, Intrusion Detection, Alarm Monitoring, Photo ID Badging, Video, Visitor Management, and integration with HVAC and Lighting controls. It should support multiple card and reader technologies including Wiegand, proximity, biometric, Smart/One Card, DesFire, magnetic stripe, bar code and long-range RFID.

Most importantly, make certain the software you select provides an open architecture with the power to choose the products you want from the manufacturers you trust.


Building Automation
From lighting controls, heating and air scheduling setbacks, significant savings are realized in both enterprise and standalone systems. In addition to cost savings, the net result is an improvement in overall operating efficiency and a commitment to environmentally responsible practices.

Building Automation Software
The right building automation software can directly impact your bottom line. Your solution should be both straightforward to operate and be scalable to meet changing needs.

Your software solution should possess the capacity to control standalone or enterprise-level integration, and be capable of scheduling and maintenance through your web browser.


CCTV
IBS supports existing and new systems through our supplier base for full integration into access controls or standalone systems.


Integration
Features

• VFD
• Full Backnet line
• Service and support for multiple systems
• Our solutions allow for integration with generators and more.
IBS is commited to helping you optimize your energy usage and expense. The commitment continues with our comprehensive Project Development and Management services. We provide you with energy and maintenance project development and design support so you can quickly move beyond baseline performance levels.

We partner with our customers to identify projects that will cut costs and provide true savings.

We have a proven track record of success, ranging from Enterprise Solutions to retail and industrial applications. These are by no means the extent of our capabilities.


Mechanical Systems
IBS offers a full product line encompassing residential and commercial installation.


Electrical
Innovative Building Solutions installs Variable Frequency Drives(VFDs), lighting control panels and more.